Post by Dion Key on Oct 22, 2011 14:51:24 GMT -5
Name:
Dion Key
Nickname:
Some call him...Di, but don't do that
Age:
17
Gender:
Male
Race:
Weapon
Position:
Student
Class:
Two Star
Partner:
Misaki Saito
A Strong Body
Picture: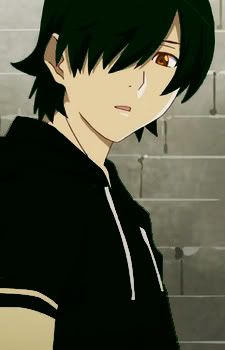 Appearance:
Dion stands at a relatively short height for his age at 5'5" and with his weight of 142lbs fits into a smaller frame. This is beneficial to Dion who focuses more on keeping his body toned instead of gaining bulk. Due to his interest and developed fighting style Dion is perfectly content with his
Body type
despite his generally small stature. Another feature that some may find less than perfect is Dion's pale skin. This is caused by his lack of exposure to sunlight. Dion isn't one to stay inside for overly long periods of time but while he is outside his body is covered in clothing. Even his face that should have gained a bit of color is still nearly as pale as the rest of him.
In contrast to his pale skin is Dion's dark hair. From a distance one could easily mistake his hair to be a simple black coloration. This is not true as upon closer inspection or the introduction of light his hair is actually a very dark green color. Speaking of his hair it is on the longer side as it reaches just above his shoulders. On the right side his hair covers his eye leaving only his one orange colored eye exposed. Dion is quite fond of his hair and does not like it when people mess it up.
Clothing wise Dion has a relatively uniform wardrobe. Dark colors are normal but he does deviate in coloration on occasion. Regardless his attire consists of a hoodie, t-shirt, and Tripp pants. The hoodies are normally of plain coloration with or without some form of design, T-shirt wise he is normally wearing one from some kind of band, and pant wise he always wears Tripps. One would think that the large and baggy pants would cause problems with Dion's movement but over the years he has become familiar enough with them that it doesn't pose any problems. For footwear Dion varies from simple converse to large Osiris, this depends mainly on what he plans to be doing in them.
Height:
5'5"
Weight:
142lbs
Fighting Style:
The way Dion fights is a mixture of formal Okinawan karate, street brawling, and parkour. Not long after his move to New York City Dion was enrolled into a dojo of Uechi Ryu. Through years of training he reached the rank of brown belt. While here two concepts stuck with him and caused him to develop his current fighting style. First was that karate was to be used for self-defense, due to this he created his own variation so he would feel less guilty about using karate to attack. Second was that the
Sanchin kata
was the basis for the style of Uechi Ryu karate. With these in mind he altered what he knew to better fit his desires.
The first and easiest change was the addition of street brawling into the more refined art of karate. It was simple enough really, just switch some of the lighter strikes and pushes for harder punches and elbows. Next was the incorporation of parkour to his style which was far more difficult than street brawling. The reason for this is that Uechi Ryu is a very grounded style where parkour is very
airborne art.
Dion eventually succeeded by learning how to execute some attacks while in the air and using parkour for recovery purposes.
Personality:
Around people that Dion does not know he can appear to be many things he is not.
Quiet
,
antisocial
, and all around
emo
are a few that pop to mind. The truth of the matter is that the people simply bore him and he doesn't feel like acting out with such a bland audience. This behavior is most likely to be shown in classrooms or other places with lots of people. For example in a class he will walk in, do what he has to do, and walk out. Interaction with uninteresting people is just a waste of time. Not to say he won't throw in some oddities in hopes of finding a person or so that can catch his interest.
His friends know these traits of Dion to be far from the truth. While he is naturally more reserved than others he is far from the quiet person others may see. When around friends or those he deems entertaining he becomes much more crazy than some may think. Aside from the random flips he performs he becomes more
talkative
. Not one for serious topics he will joke to lighten the mood when it may or may not be necessary. Interacting with those he doesn't like brings out more of his personality as well, if not exactly for the better. He will
taunt
and attempt to start fights if he genuinely has a problem with someone, not to say he wouldn't start fights just for the fun of it~
Due to his rather selective method of finding friends he values the ones he makes. Not one to back down from a fight he may offer or jump in to settle things for those close to him. After coming to Shibusen he has adopted the role of the weapon, which he sees as the duty to protect. In his view it is better for him to sustain injury than to allow other to be hurt. This especially goes for his meister as on missions and such he is the only guaranteed shield. With this way of thinking any pain he may receive if to aid or save is justified.
Inside the Soul
Weapon form:
Dion's weapon form is that of a spear with tips on both ends. The shaft of the weapon is a solid black color while the spear heads are a simple metallic silver. The spear itself is very simplistic in design with only slight decoration where the shaft of the spear connects with the spear heads. In total his weapon form weighs seven pounds.
Partial Form:
Like most demon weapons Dion is able to manifest part of his weapon form while in his human form. In his case he is able to form the spear heads of his weapon form in the center of his knuckles. At base they protrude around 2" from his fist but can be extended to a full 8". The downside of this form is that Dion's fist will remain just that as long as the partial is active. In order to grab something or use his hand for anything other than to punch he must exit his partial. Dion has the ability to activate his partial on one or both hands.
With some training he has learned how to manifest his weapon form from the center of his feet. Retracted he can create a 4" spear tip that can extend to a full 10" though it looks the same as his hand partial due to having to pierce through his shoes. Like his first partial he can alter one or both feet at a time. He can also mix this with his hand partial to use a speared fist and speared foot at the same time, but only one of each.
Abilities:
The specialty of this weapon is its ability to extend and retract at the will of Dion or his meister. In his retracted form Dion measures three feet long and elongates to six feet upon extension. Despite this being a rather lengthy size for a weapon Dion is still easy to wield if used by the correct meister.
Resonances:
-
Amenonuhoko
-
Character Name(s): Dion Key and Misaki Saito

Name: Amenonuhoko "Heavenly Jeweled Spear"

Type: Soul Resonance

Class: Resonance

Picture:


Description:


天沼矛



Amenonuhoko is the name given to the naginata in Japanese mythology used to raise the primordial land-mass, Onōgoro-shima, from the sea. According to the Kojiki, the gods Izanagi and Izanami were responsible for creating the first land. To help them do this, they were given a naginata decorated with jewels, named Ame-no-nuboko. The two deities then went to the bridge between heaven and earth, Ame-no-ukihashi ("floating bridge of heaven"), and churned the sea below with the naginata. When drops of salty water fell from the tip, they formed into the first island, Onōgoro-shima. Izanagi and Izanami then descended from the bridge of heaven and made their home on the island


Amenonuhoko creates a union between Dion and Misaki that is visible in Dion's transformation. Firstly is how Dion physically changes from a relatively simple and plain looking spear into an eccentric form albeit lacking a truly jeweled appearance. Starting in his extended state Dion takes on a silver coloration and becomes a simple solid spear with two tips. These tips seem to grow into a more bladelike form before the rest flares out into an eccentric circular shape adorned with multiple spikes. After the transformation Dion remains the same 6' and the shaft of his weapon remains the same size/shape, not changing the form enough to throw off Misaki. This form alone changes how Dion can be used in combat but the true power of this resonance lies in something less concrete. In this form Dion gives off a bluish-green glow that originates from the combination of his and Misaki's wavelengths. The light covers Dion in this state but is not a simple illumination; the light seems to move around Dion in a consistent pattern.


The reason for this is that the union of Dion and Misaki enhances both of their wavelengths. The light around Dion is actually the excess wavelength they produce so upon contact with someone/thing it shocks the target with a weak soul purge like effect, at most this feels like a small shock. Another byproduct of this is that Dion's form has an increased sharpness to it, enhancing his cutting/stabbing ability. Now for the true strength of this resonance! All the enhanced wavelength the two have gains strength as it bounces back and forth. At the will of Misaki that collected wavelength can be released from either of Dion's blades. When doing so the blade that will release the blast glows even brighter as it gathers the wavelength together. From the tip of the blade the wavelength is released in the form of a small concussive burst and a weaker secondary burst. A total of five burst can be used before the resonance forcefully breaks and drains the two of their wavelengths.

This form is definitely not without consequence. The constant expense of wavelength by itself causes some drain for the two but the burst even more so. Forcing the combined wavelength out of the blade drains the two of their wavelength as well as causing stress for Dion, he is still getting soul purged after all. The resonance breaks after five blasts because after that the two no longer have enough wavelength or energy to support the form. They are not completely exhausted but will be weary after, just stable enough to continue fighting while their wavelengths recharge. After the resonance Misaki's soul purges will be weakened while Dion cannot enter partial or extend, he also suffers from quite the headache.


Strengths:
• Now capable of cutting/slashing
• Adds an element of surprise to attacks
• Attacks are more damaging
• Can directly attack the soul upon contact.
• Burst can be used to unbalance opponents as well as cause massive damage. Damage and effect are based on the position of the spear when the blast goes off.
• Secondary burst can knock an enemy away or unbalance a larger foe.
• Due to the enhancing of the wavelengths the two feel great during the resonance. Some of their injuries may feel healed and they gain a small adrenaline boost.


Weaknesses:
• Can only be used twice per thread
• Limit of 20 total post (10 each)
• 20 post cool down (10 each) Time is needed to gather their wavelengths and regain energy.
• Misaki's soul purge is weakened for 3 post after ending. Dion is limited to his retracted form for the same time (also cannot go partial)
• After ending Dion experiences a moderate headache that last between 2-4 post, grows worse with multiple uses. Pain and duration vary based on how many burst are used.
• When the resonance ends the effects of the boost instantly stop. Any pain comes crashing back and their energy drops.
Out of your Mind
Strengths:
• Fast- Dion runs across roofs for fun, you need a bit of speed to do that.
• Balance- Falling off of a roof would suck, Dion made it so this doesn't happen (too often).
• Pain tolerance- Training for both karate and parkour has made it so Dion can get hurt without much care.
Weaknesses:
• Easily distracted- Stemming from his easy boredom, if something gets boring or something more interesting shows up his attention will shift. When really bored his attention shifts from thing to thing quickly to find entertainment.
• Low Stamina- As fate would have it Dion's stamina is on the lesser side. He may love to run and jump but sooner then he would like his body forces him to stop.
• Low Endurance
• Nonstrategic
Hobbies:
• Climbing- What better way to get up high than to climb? Plus he can make spear tips come out of his fist! Why not embrace your inner Knuckles the Echidna ?
• Parkour- Risking your life and potentially trespassing just for a quick run? I see no problem with this.
•
Resisting gravity- The less time on the ground the better! Hanging upside down is also one of Dion's pass times.
Likes:
• Music- Dion is a fan of music of the harder variety. One could correctly label him as a "Metal head" though his taste does extend to some softer varieties.
• Video games- While loving video games in general Dion has a certain yin/yang relationship with two, shooters and fighters. Give him a shooter and watch him run around like a lost child firing into the air but hand him a fighter and witness as he slams you into the virtual pavement.
• Parties- If a party is taking place Dion will know and most likely be there.
• The unusual- Why bother wasting time with the ordinary when the strange are much more fun? Due to this Dion has become quite the thrill seeker.
• Excitement- Stagnation and boredom simply will not do! There must be something better to occupy the time with.
• Reading- Strangely enough Dion does enjoy a good book from time to time. The issue with this is that he is easily bored and stops most books he picks up shortly after starting. It also makes reading for school completely out of the question!
• Parkour- Perhaps Dion's favorite activity. Running around doing possibly illegal things with a constant threat of death? What's not to love?
• Fighting- While not one to go looking for a fight Dion isn't the bigger man who will walk away. A little brawl is all in good fun so if a challenger appears why not take them down?
• Height- The farther away from the ground the better! Dion has a habit of climbing random objects to fix this problem
• Misaki Saito
- What? I don't have the foggiest idea what you are talking about.
Dislikes:
• Pink- Of all the colors in existence pink is the one that bothers Dion. Maybe it is the massive difference from his usual color choices? Regardless of the reason Dion dislikes pink.
• Guns- He has no personal qualms with firearms they just don't interest him. Maybe its because of his enjoyment of fighting that he dislikes something that can accidentally and quickly end someone.
• Boring people- If you don't catch his attention you won't get it. Simply put, if you are boring then Dion will ignore you.
• Certain music- Soft music and most rap to be precise. If he can't mosh to it he would rather not bother listening to it.
• Exposing himself- Dion is most comfortable in his normal outfits. Deviations from this make him uncomfortable. Having to wear something like swim trunks is an annoying inconvenience.
• Doctors- After his first mission Dion has become suspicious and potentially hostile towards doctors. While simply looking like one or being one is only enough to make him overly cautious of you the production of a scalpel is reason enough to attack on site.
Aspirations:
Simply put Dion wants to become a Death Scythe. Beyond that he hasn't really planned for.
History:
Dion was born in the village of Ravena New York to a rather middle class family. His life was for the most part completely normal. Neither of his parents were weapons or meisters so they had no idea that their son would be a weapon. If traced back Dion actually has weapon blood from both sides of his family. His grandfather on his mother's side and his great grandmother on his father's side. Both of them had the weapon gene but never realized they did so their potential went unknown. None of the generations after them have had the ability to transform into a weapon so Dion was the first in generations to discover this trait.
Dion lived a completely normal life with no major events happening until he was six years old. Sure he went through the average contest, fights, and bruises of young boys but beyond that nothing unusual. During his sixth year of life his father received a promotion. His pay would be greatly increased and all he had to do was move. Needless to say the family was uprooted from the village of Ravena to New York City.
It was during this move that Dion realized something, he was bored. Before he was content in little Ravena but after going to the city he found where he belonged. All the activity and interesting people! Was nearly too much for the little six year old. Soon enough he adjusted to city life and fell into a normal routine. His mother was a tad paranoid however and enrolled him in Okinawan karate classes since there was a dojo very near their residence and she wanted her son to be able to defend himself. And Dion loved it!
Besides the karate (which he was doing great in!) nothing spectacular was going on in Dion's life. He was kid in the city, he went to school, did his school work, made friends, played outside, got into the occasional scuffle, and just wanted to have fun. He was an average kid in all regards. Well he was until he turned ten anyway.
Dion, now ten years old, tended to get into more trouble than he would have liked. Not to say he wasn't to blame for some if not most of this but it still happened. During one of these 'incidents' Dion was clearly outmatched and his opponent had the bright idea to lift and show off his victory. Dion was hurt from the previous fight but being lifted over someone's head and paraded around was just not going to happen! Due to how he was being held his punches were all falling short of making contact. If only he could reach a little farther...
A sudden flash of green light near his fist and the next thing he realized he had managed to hit the bully, albeit he didn't feel it. Quickly after that he found himself on the ground, flat on his back, Looking at his fist he saw a metal point sticking out with blood on the tip. Looking up he noticed the opponent and the watchers looking at him with fear. He had just drawn blood no he had just made some metal thing launch out of his hand! Long story short Dion did the smart thing and scared the kids away before figuring out how to get rid of the spike in his fist.
Did he tell his parents about this? Of course not! He had just done something normal people could not do! In the mind of a ten year old this only meant one thing, he was supposed to be a superhero! To make real this idea he began to train harder in karate and at his home in secret he would practice his partial as well as include it with his karate routine. In his spare time he would doodle up costume ideas for his future superhero self. If his parents found any they discarded any worry as simple childish fantasy. Luckily Dion wasn't stupid enough to think he could be a superhero when he was only ten, you had to be in High school before you could fight crime!
After he turned thirteen his parents decided to take a trip. Considering their new jobs made them a nice amount of money they decided to go on vacation in Europe, France to be more specific. During their time there plenty of normal family vacation stuff occurred but none of that is important! During his stay Dion made a group of friends that introduced him to the art of free-running or parkour. Instantly Dion fell in love and worked his hardest to keep up with the others. Luckily the group was understanding and helped him along until he had the basics down. Thankfully due to school and preparation beforehand Dion knew enough French to communicate with the others.
On one of his runs Dion decided to show off. With his superhuman powers and all it should be easy! Running at a flat wall Dion entered his partial and used it to stack to and climb said wall. At first his friends were amazed and then they found out how he did it. Dashing his dreams they explain to Dion that he was not a superhero but in fact a demon weapon. After some talking (and translating) Dion was told all about Shibusen and kishin and the like. His friends even helped him transform into a full weapon! Dion was a double sided spear! What could be more bad ass than that? Maybe that he could extend to six feet long!
Enthralled by this revelation he didn't seem to notice or care that none of his friends offered to wield him. Perhaps it was because they didn't want him to get attached and forgo finding a more capable meister, maybe they didn't want to upset him when he had to go back to America, or perhaps it was just some French thing. Regardless Dion went back to America soon after with the knowledge that there was a whole school filled with people like him! He almost wanted to tell his parents right away but he wanted to stay in New York longer so he decided to hold off on telling them.
At the age of fifteen Dion got his first taste of real combat. What his parents had been afraid of, gangs. It was a simple little fist fight that escalated into more hate filled combat. Dion was relatively relaxed during this after all, he was winning. His training in karate and parkour paying off he had no problem avoiding most of the punches and easily delivered his own. It was all in good fun, until a knife was pulled. The gang member expected fear to overwhelm Dion but all he got was a grin in response. Dion simply entered his partial and knocked the blade away from the stunned gangster. This was the start of many more similar encounters.
Turning seventeen Dion was getting bored. He loved the city but things in it were getting out of hand. Suddenly people wanted to fight him because he managed to scare a few gang members? Sure it was fun for a while but then it was just dull. It was time for Dion to move onto bigger and better things. He informed his parents that he was a weapon and wanted to attend Shibusen. His parents were surprisingly supportive of this. The fact that their son was a demon weapon who would go out and fight monsters seemed to go over their heads. Soon after they moved out to Death City, his parents actually continued their current employment but moved to a different branch.
And then they were in Death City! Considering Dion would be growing more independent of his parents (what with the whole traveling the world to kill stuff thing) they bought him an apartment so he could live by himself. Being in the possession of a decent amount of wealth this was no problem for his parents. The deal for this was that they would pay for Dion's apartment and give him an allowance but otherwise he could live completely by himself. Given this option Dion like most seventeen year olds couldn't agree fast enough!
A place of his own and new to the area Dion began to explore Death City soon after his arrival. Not knowing exactly what the city was like Dion decided to stop by the park first and climb some trees. While doing this he discovered what kind of crazy had to offer, in the form of Bang Bang the demon Rocket launcher! After their far from normal meeting they began to talk and quickly became best friends! Sometime after he ran into his future meister Misaki Saito. After they had completed their first mission they decided to share an apartment for simplicities sake.
Extra Notes:
+His birthday is July 5th
+Even though Dion lived in New York City for a good portion of his life he does not speak with an accent. When experiencing strong emotions (rage, embarrassment, ect.) or exposed to madness this accent appears. Dion's accent is a mixture of a Staten Island accent and a Manhattan accent.
4 and 5
+Dion's soul room takes the form of the top of a skyscraper. An average size it is surrounded by simple darkness.
+Dion knows basic French. Not nearly fluent but he can understand most things and give simple responses,
like sloppy makeouts.
+Dion has a red bicycle that he used before meeting Misaki and no longer needing it.
Behind the strings
Alias:
The Grand Highblood
Other characters:
This be my first
Face Claim:
Araragi Koyomi from Bakemonogatari
RP Sample:
Standing on the rooftops, wait until the bomb drops
Alright it wasn't a bomb per say but wait until the kid drops doesn't sound nearly as epic! Dion being his usual self had gone out for one last night of New York City shenanigans. In Dion terms this meant one thing, climbing a rather tall building and jumping off. Doing this at night only made all the better! The lights of the city gave off their normal luminance but it all seemed to be focused on him. This was only natural with this being his grand finale and all! That's right New York; the great Dion Key was only here for one more night! In the morning he was headed out to the fabled Death City!
Of course Dion was sad about this, he had been here for around eleven years now! Sadly the people here were growing less interesting and he had bigger and better things to do. He was a weapon, getting into little fights here was a waste of his time! In Death City he could meet other weapons and find a meister! Even better he would learn how to fight these kishin things! That sounded much more appealing than getting caught up in fights with normal humans. And of course there was this Death Scythe thing he had heard about.
All these thoughts in his head he barely paid attention to his surroundings. One minute he was walking along the sidewalk and the next he was scaling a wall. Snapping back to attention he noticed the lack of puncture marks in the wall, perfect! This place was fresh then.~ Reaching the roof he flipped himself onto it while exiting his partial. Rolling into a landing he looked around the barren rooftop. Nothing fancy but it would work for what he needed.
Walking over to the edge he looked down at the cars and traffic below. Chances of him being noticed here were slim but he had to at least try right? Hands stuffed in his overly large pockets he looked out into the city. "I'll step on you on my way up!" This city was now a step on his ascension to being a kick ass Death Scythe! "And I'll fucking step on you on my way down!" Not so much down but out. As he left for Nevada he would be squashing those bothersome pests here.
Long speeches were boring so that should be enough. His words were probably drowned out by the roar of the traffic below but he was satisfied. All that done he had one last thing to do before he departed for Death City. And with that Dion jumped.